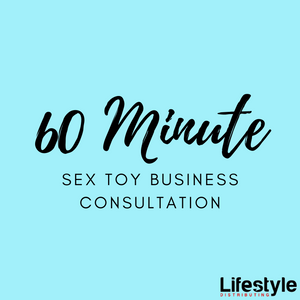 60 Minute Sex Toy Business Consulting
Want to learn about starting a sex toy business?  Is the thought of buying wholesale sex toys and selling them at awesome retail margins appealing to you?  If you answered yes, please sit tight because you're at the right place!  If this is the first time you are launching this business or if you just need to brush up on some aspects of the business that is already launched, you will want one on one dedicated consulting.  Proper guidance on the sex toy industry can save you hundreds or even thousands of dollars with your new or current business.  The team at Lifestyle Distributing are experts in the sex toy industry and will help you launch or revamp your business quickly and efficiently with our custom-tailored business consulting packages.
Here is what to expect in this in-depth 60-minute consulting session:
5 minutes – Consultant to learn about your business model.
5 minutes - Consultant to discuss legal entity setup and protection for your business.
10 minutes - Consultant to discuss how to differentiate yourself from the sea of sex toy companies.
15 minutes – Consultant to discuss product offering advantages and strategies.
15 minutes – Consultant to discuss customer acquisition strategies.
10 minutes – Open questions and answers (Q&A) time.

What to expect once you purchase this consulting package?
Once you place your order, one of our consultants will contact you and schedule a time for your session.  Same day sessions are not always available so be sure to book your sex toy consulting session as soon as possible and allow up to 48 hours for your session to begin.
Important Quote to Consider:
"Success is not obtained overnight.  It comes in installments; you get a little bit today, a little bit tomorrow until the whole package is given out.  The day you procrastinate, you lose that day's success." – Israelmore Ayivor
SPECIFICATIONS
Product Type
Consulting
SKU
STC60
Manufacturer
Lifestyle Distributing